Don't Down-Play That Water Damage!
5/1/2018 (Permalink)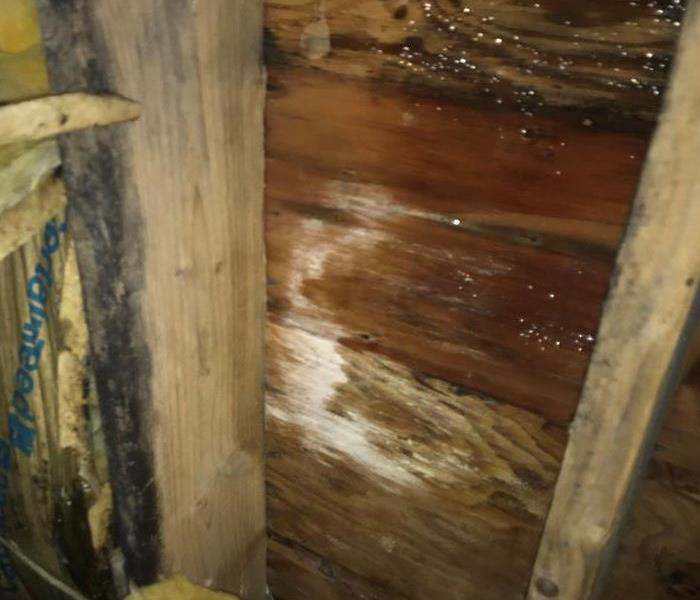 Look what was hiding in the crawlspace of a home with a water damage several months ago that went unaddressed!
Water damage from a leaky pipe, storm event, or any source can be a huge inconvenience - we get it! However, the worst thing that a home or business owner can possibly do is to ignore the damage that water events can cause, or to down-play them. Even seemingly minor water damages can cause devastating secondary damage if not properly mitigated; including mold growth! We occasionally encounter situations where a homeowner calls us out for a "mold" inspection and through the course of our conversation they casually mention that there was a water event "a few months back." In some of these instances, the materials in the home are still wet! Sometimes mitigation is not required at all, and we would never steer you in the direction of something that is not needed, but the safest when water damages occur, to prevent mold growth and secondary damage, is to call us to at least come check it out. Our methods of investigation and inspection can uncover issues that you may not even know are going on: like mold growing where you wouldn't see it everyday. Under and between structural materials that trap moisture (ex. linoleum or baseboards) and in rarely visited areas like crawlspaces, un-mitigated water damages can promote ugly situations like the growth in the attached photo. But never fear! Just give SERVPRO of North East Chester County a call and we would be happy to come out and take a look!