3 Steps To Handling Water Dripping From Your Light Fixtures
3/14/2022 (Permalink)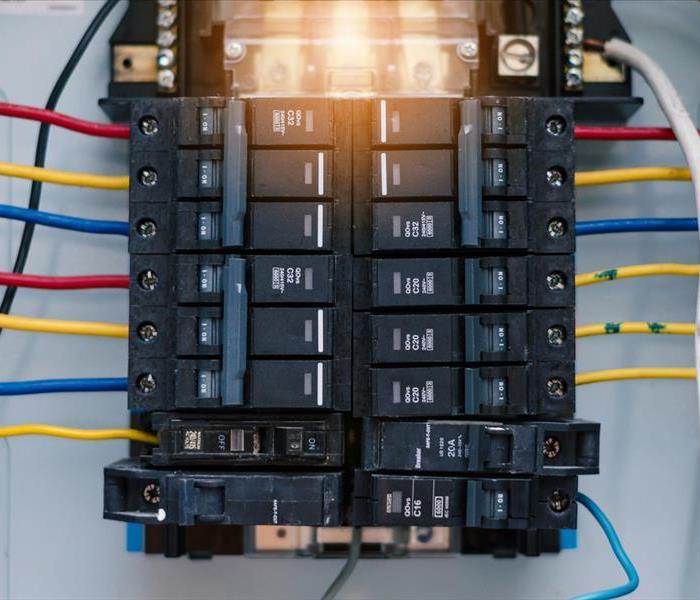 While finding water in a light fixture can be a strange sight in your home, it is no less dangerous to your home than any other water leak.
Three Steps To Dealing With Water Dripping From Light Fixtures
Though you might assume any major water leaks you'd come across in your Charlestown, PA, home would materialize from something like a faulty toilet or a leaky faucet, finding dripping water in your light fixtures is actually a common occurrence. If you're new to the problem, however, it can be hard to determine where to start in dealing with the water leak and possible ceiling damage. Here are three crucial steps to take if you find yourself needing to stop the spread of water leaking through your fixtures.

1. Turn off the electricity to your home through the breaker box. While merely shutting off the light switch of the affected light might seem like the best idea, this can be dangerous and should be avoided. After all, any contact with the electrical current from the fixture and the source of water can cause electric shock, so going straight to the breaker box is vital to staying safe.

2. Shut off the water supply to stop any leaks. While the electricity is off, it's also important to contain the spread of water by shutting off the main water valve to your home. Depending on where the water in the light fixture is coming from, leaving the water running can create more ceiling damage or extensive problem areas inside your walls.

3. Contact a qualified restoration crew to address the situation. Once you've properly contained the area as safely as you can, it's best to let experienced water damage restoration technicians handle the cleanup. After the source of the leak has been repaired and the resulting damage assessed and restored, an electrician can then suitably fix your affected light fixtures, as well.

Be Prepared for Even the Oddest of Water Leaks

While finding water in a light fixture can be a strange sight to see in your Charlestown, PA, home, it's no less dangerous or damaging to your home than any other water leak on the property. For this reason, it's crucial to act quickly and call upon others to help you restore your home before any more damage occurs.